RocknRoll Genre
"

Street Cat Rock n Roll" - Matti Bildt
— Ox-Fanzine.de
KING KHAN review
"Finally a band that can tap into the "secret cult" feeling of garage punk music and make you wanna meet them in a back alley with a bucket of blood and a bag of dead cats. Don't get me wrong, I love cats and these cats who call themselves the Sound Station have weaved their own mystic sound by following the age old K.I.S.S. philosophy (Keep It Simple Stupid). I hear loads of cool influences from the Seeds & Music Machine as well as some ol' Georgia punk sounds ala B-52s or the Black Lips. Hail Hail Rock n Roll! Hail Hail the Sound Station!" 
~ King "Bama Lama" Khan 
Emancipator of RnB
Releasing "Wild One" on Streams One Song at a Time starting Oct 14
New Tracks on Vinyl Chaputa Records
Wild One 7" EP
The Sound Station
"The Sound Station making a Bo Diddley/Seeds/Troggs-inspired noise that's part wigged-out garage, part raucous R&B and totally killer all around." - Shindig Magazine

"Finally a band that can tap into the "secret cult" feeling of garage punk music and make you wanna meet them in a back alley with a bucket of blood and a bag of dead cats. Don't
"The Sound Station making a Bo Diddley/Seeds/Troggs-inspired noise that's part wigged-out garage, part raucous R&B and totally killer all around." - Shindig Magazine

"Finally a band that can tap into the "secret cult" feeling of garage punk music and make you wanna meet them in a back alley with a bucket of blood and a bag of dead cats. Don't get me wrong, I love cats and these cats who call themselves the Sound Station have weaved their own mystic sound by following the age old K.I.S.S. philosophy (Keep It Simple Stupid). I hear loads of cool influences from the Seeds & Music Machine as well as some ol' Georgia punk sounds ala B-52s or the Black Lips. Hail Hail Rock n Roll! Hail Hail the Sound Station!" - King "Bama Lama" Khan

The Sound Station is a Los Angeles-based Rhythm n' Blues Punk band with a rabid admiration for 50's RnR and 60's Garage, aiming to create music as mind-altering and blood-curdling as the vintage creature-feature sci-fi horror they love!
Simon and Nakia Black, the core songwriters and performers, have been hand-selecting a collective of misfits to play their bizarre brand of rock n roll from Coast to Coast for years, releasing a couple of vinyl singles that are coveted by some depraved lunatics in underground corners worldwide. With their Athens crew, Nate Mitchell, Adam Mizell and producer Jesse Mangum, they've served up these four new raunchy rockin' eye socket burners for your delight. Making music you can trust and dance to.

Tracking:
A1 – Wild One
A2 – Should I
B1 – Late Night Snack
A2 – Don't Look at Me

Edition of 500 copies, black vinyl
Sleeve artwork by João Pimenta
Pre-orders shipping with band postcard
Read more…
Listen to Outro Records release
The Sound Station Split Digital EP
The Sound Station
Raw, Swinging, Garage RnB RocknRoll! This is a split EP with The Creepy Crawlies released on Outro Records
Read more…
Demo release series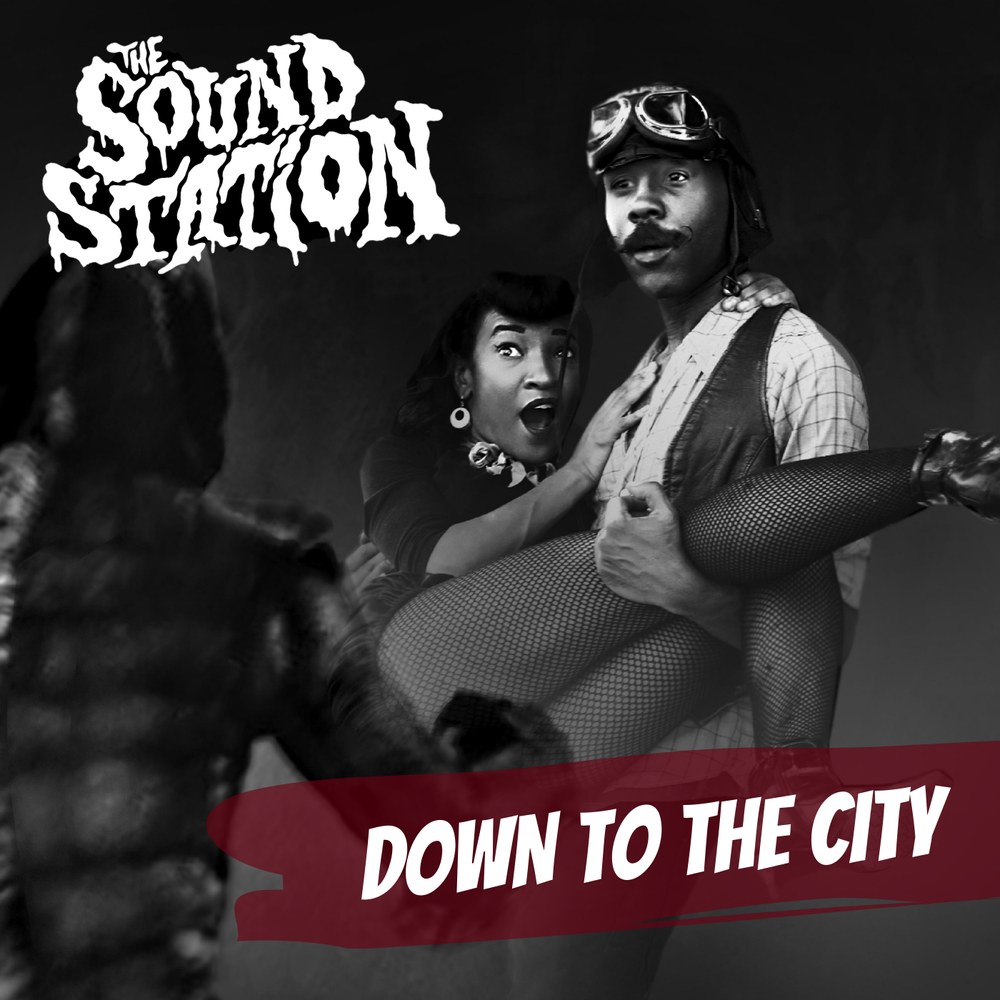 DEMO SERIES OF A FEW SONGS ON UPCOMING ALBUM
"Down to The City"
❣️ This song is about making decisions and taking risks for love. You can hear the influences of our heroes Memphis Minnie and Chuck Berry.
This is a great prototype of this song that will be re-recorded with more fuzz lead etc for an upcoming album release. Although this is being recorded we didn't want to let this version go into the abyss.
Our way of saying thank you all for the support, for being there, and showing us incredibly huge love.
Enjoy and thanks for listening